COVID-19 ADVICE
Updated 16th June 2020
With the ongoing developments in COVID-19 virus pandemic, the government and The Chief Dental Officer announced that dental practices could re-open on 8 June 2020.   
We are endeavouring to source the correct PPE and establish safe working protocols in readiness to resume providing Specialist endodontic care, with the aim of protecting our patients and all staff to reduce the risk of transmission of the COVID-19 virus.
Please see our BLOG for the changes we have made to our practice post COVID: 

In the meantime, our Reception team are here to accept referrals from Colleagues and calls.  Please email referrals to info@endo61.com
For the latest guidance on performing endodontic procedures during the Covid-19 pandemic please click the link for the British Endodontic Society website.
For general guidance on COVID-19: https://bda.org/advice/Coronavirus/Pages/faqs.aspx
Thank you for your support in keeping everyone safe.
With best wishes,
TEAM ENDO61
---
Welcome to Endo61, where we specialise in Endodontic services here at our purpose built practice in Gatley, near Chealdle. Our elite team are ideally situated in the South Manchester area to offer high levels of service and the very best of care and attention to your referring dental patients.
---
Please allow me to introduce myself, I'm Sanjeev Bhanderi and I founded Endo61 almost nine years ago now. Here's a little about my background:
Bachelor in Dental Surgery 1993: Guys and St Thomas' Hospital Dental and Medical School (University of London)
Masters in Science in Endodontology 1997: University of Manchester
Registered Specialist in Endodontics 2001: GDC Reg. no. 69676
Expert medico-legal Witness 2003: University of Wales (Cardiff Law School)
President of the British Endodontic Society present to 2022

After qualifying in 1993 I completed my Vocational dental training in practice in East London. I moved up to work at the Manchester Dental hospital to widen my clinical and surgical experience. I then embarked on the MSc course in Endodontology at the University of Manchester dental school whilst working in general practice.
---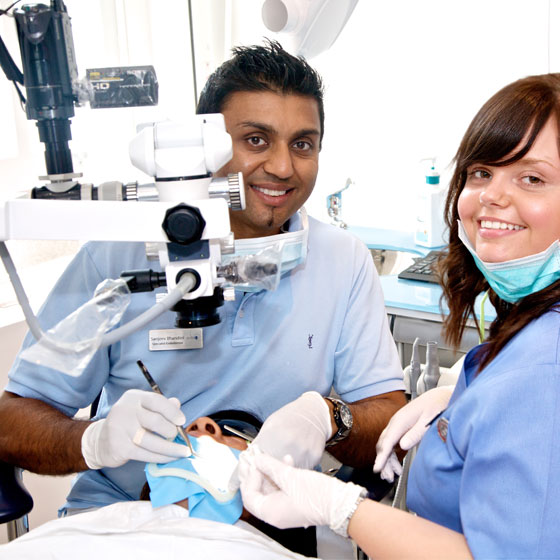 In 1997, I completing the Masters course in Endodontics and have since worked exclusively in specialist endodontic practices in Manchester, Liverpool and London.I am registered on the GDC Specialist list for Endodontics, a Senior Clinical Lecturer at the University of Liverpool Dental hospital (Specialty training programme in Endodontology), an Honorary Lecturer at the University of Manchester Dental Hospital (Postgraduate courses in Endodontology) and lecture on postgraduate and professional education courses for general dental practitioners throughout the North-West, UK, in Europe and the Middle East.
Between 2008 to 2012, I was Course leader for the MSc in Endodontology course at the University of Central Lancashire, Preston.
---
In 2003, I became a certified Expert Witness (University of Wales) and also work under legal and dental defence instruction for expert opinion and case reports on potential dental negligence and complaint cases.
I am an inaugural member of the North West Endodontic Study Club (NORWESC), a group of endodontic specialists and academics from the North West and Midlands who meet quarterly. I am also on the Council of the British Endodontic Society and European Representative for the European Society of Endodontology, and an active member of the American Association of Endodontists and the Anglo-asian Odontological group of London.
Assuring you the very best of my care and attention, I aim to provide the sound foundations for your restorations predictably, painlessly and precisely.