COVID-19 ADVICE
Updated 19th July 2021
Further to the latest COVID-19 announcement, from the 19th July 2021, we are continuing to follow Public Health England guidance. Patients and staff members will still need to wear a face mask, socially distance, and use hand sanitiser in our practice.
We continue to source the highest level of PPE, a strict triaging system, and have robust safe working protocols in order to provide safe Specialist Endodontic care.
Our aim is to continue to protect our patients and our staff to reduce the risk of transmission of COVID-19 during the ongoing pandemic.
For information on our COVID Patient journey to keep everyone safe when they attend, please click here: 
PATIENT JOURNEY INFORMATION 

Please be aware of the current COVID-19 guidance: www.nhs.uk/conditions/coronavirus-covid-19 

If you are a referring dentist you can still email us on info@endo61.com or give us a call for advice. 

If you are currently under treatment with Dr Bhanderi or Dr Jacobs and need urgent advice, please call us on 0344 288 6161. 

Thank you for your support in keeping everyone safe. 

Keeping safe and with best wishes, 
---
Welcome to Endo61. At our purpose built practice in Gatley, near Chealdle, we are ideally situated to treat patients from the Manchester and Cheshire areas. Myself and my team specialise in Endodontic (root canal) services of the highest level. Our elite team are not only here to offer you high levels of service medically, but also the very best of care and attention during and after your visit to us for your treatment.
We would be delighted to welcome you to Endo 61. Our entire team are experienced in dealing with the most anxious patients with their gentle approach. Please do not hesitate to approach them if you have any questions before you see myself Dr Bhanderi or Dr Jacobs, and they will reassure you of any concerns that you may have.

---
Please allow me to introduce myself, I'm Sanjeev Bhanderi and I founded Endo61 almost nine years ago now.
Here's a little about my background:
Bachelor in Dental Surgery 1993: Guys and St Thomas' Hospital Dental and Medical School (University of London)
Masters in Science in Endodontology 1997: University of Manchester
Registered Specialist in Endodontics 2001: GDC Reg. no. 69676
Expert medico-legal Witness 2003: University of Wales (Cardiff Law School)
After qualifying in 1993, I worked in dental practice in East London and then moved up to the North West and worked in general practice in Stockport. During this time I embarked on the MSc course in Endodontology at the University of Manchester Dental School whilst continuing my time in general practice.
---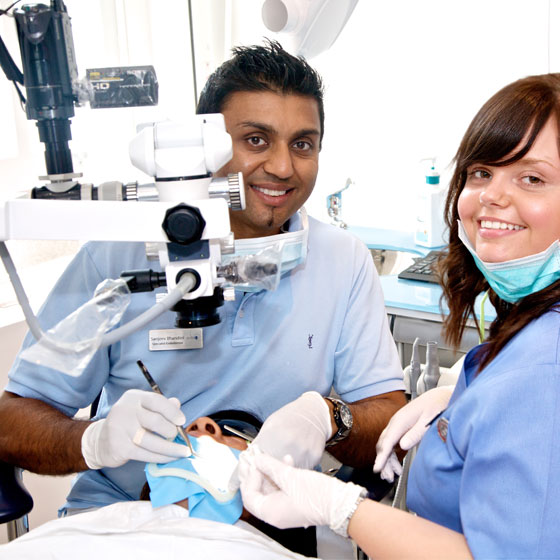 In 1995, I moved to University of Manchester Dental Hospital to widen my experience and postgraduate education in the Dept. of Operative and Restorative dentistry.
I was soon clear in my desire to concentrate my expertise in the field of endodontics as I saw how important this discipline was in dealing with patient's common problem of toothache. Being able to deal with this effectively, reassuringly, with the relief on the face of a suffering patient has always been the most satisfying part of my work.
Between 1995 and 1997, I completed a Masters programme at the University of Manchester whilst working in general practice. I have since been working in specialist endodontic practices in Manchester, Liverpool and London and am registered on the GDC Specialist List for Endodontics.
In 2003, I completed a 1 year Expert Witness legal course (University of Wales) and also work under legal and dental defence instruction for expert opinion on potential dental negligence cases.
---
I have also a passion for teaching and am a Senior Clinical Lecturer at the University of Liverpool Dental hospital (Specialty training programme in Endodontology), an Honorary Lecturer at the University of Manchester Dental Hospital (Postgraduate courses in Endodontology) and, until 2012, the MSc course leader at the University of Central Lancashire Postgraduate Dental School. I also lecture throughout the UK and internationally on professional education courses for general dentists.
In 2007, I was elected onto the Council for the British Endodontic Society and their European President for the European Society of Endodontology. I am also an active member of the American Association of Endodontists, Chairman and inaugural member of the North West Endodontic Study Club (Study group of endodontic specialists and academics from the North West and Midlands) who meet quarterly, and the Anglo-asian Odontological group of London.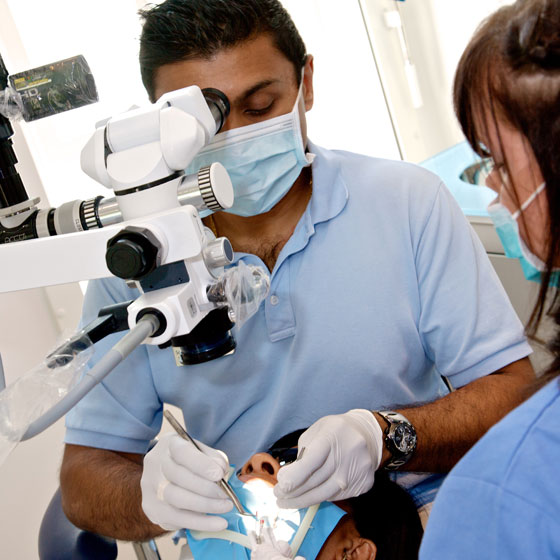 ---
But aside from this, I do have another life as a normal human being. My day is never complete without enjoying a real time-out with my Boys. They make my life and career worth living and remind me not to take life too seriously, well except root canals of course!
During your visit to Endo61, we assure you the very best of our care and attention, where we aim to provide the sound foundations for your restorations predictably, painlessly and precisely.
Read More about Dr Sanjeev Bhanderi
---
PLEASE CLICK HERE TO READ TESTIMONIALS FROM DR SANJEEV'S PATIENTS
PLEASE CLICK HERE TO CONTACT US
---
---
Take a Look Around: